Webcam
A view from the lodge roof looking approximately East towards Ptarmigan Bowl. Click to see a larger image. Provided by our friends at Borealis Broadband.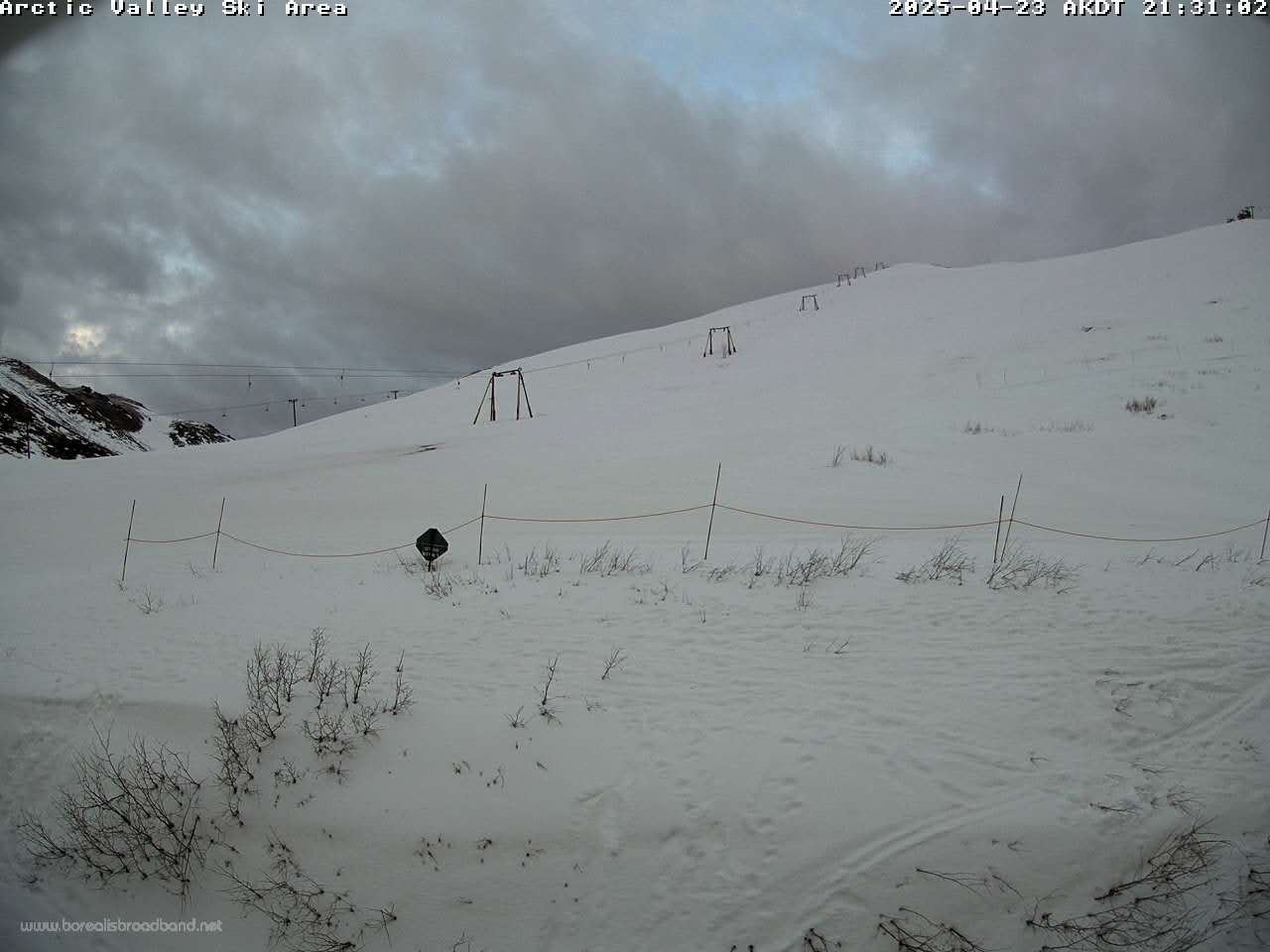 Snow Report
Updated Friday 3/27/20
New snow last 24 hours: N/A
New snow since last week: N/A
Total snow depth: 30″+
Arctic Valley has suspended operations beginning Monday, March 23rd. If the current situation improves, we hope to be able to re-open in mid-April for some spring skiing. The snowpack this year is great, and we hope it outlasts this virus!
While operations are suspended, uphill travel will be allowed within ski area boundaries. No snow safety activities will be performed, and no ski patrol services are available. Please use conservative decision making, and don't do anything that could put additional stress on medical and emergency services.
Unfortunately all of our spring events and fundraisers have been cancelled. These events (Merry Marmot and the Black Diamond Block Party) are major fundraisers and are a big part of our spring budget, which pays for summer lift maintenance and upgrades. If you enjoy these events and would like to support us, you can make a donation online or buy a membership. Please click here for details on how you can help.
We are evaluating options for our Annual Meeting. We'll have more information once a decision on the best way to proceed has been made.
Road Conditions
Arctic Valley Road is in good winter driving condition. We do recommend studs and/or 4WD/AWD. A few areas around the Arctic to Indian trailhead are narrow – please pass other vehicles with caution.
Below is the current schedule for military live fire exercises on Arctic Valley Road:
March 25-27 (Wed-Fri) 8am-5pm
March 30-31 (Mon-Tue) 8am-10pm
April 1 (Wed) 8am-5pm
April 7 (Tue) 8am-5pm
April 14-17 (Tue-Fri) 8am-5pm
April 20-21 (Mon-Tue) 9am-5pm
April 23-24 (Thu-Fri) 8am-5pm
April 27 (Mon) 10am-4:30pm
May 6-7 (Wed-Thu) 9am-5pm
May 13-15 (Wed-Fri) 8am-7pm
For most exercises, road guards will allow traffic to flow every 20-30 minutes in each direction. For some exercises, the waits may be 30-40 minutes. The road (unless noted above) should not be 'closed'. If road guards are communicating longer wait times than those listed above, or telling you the road is closed, please call JBER Range Control at 907-384-6230 and report the issue. They will work to make sure the units conducting training are following the road access rules.
Last update: Friday, March 20th
View our weather station's data and charts here