Webcam
A view from the lodge roof looking approximately East towards Ptarmigan Bowl. Click to see a larger image. Provided by our friends at Borealis Broadband.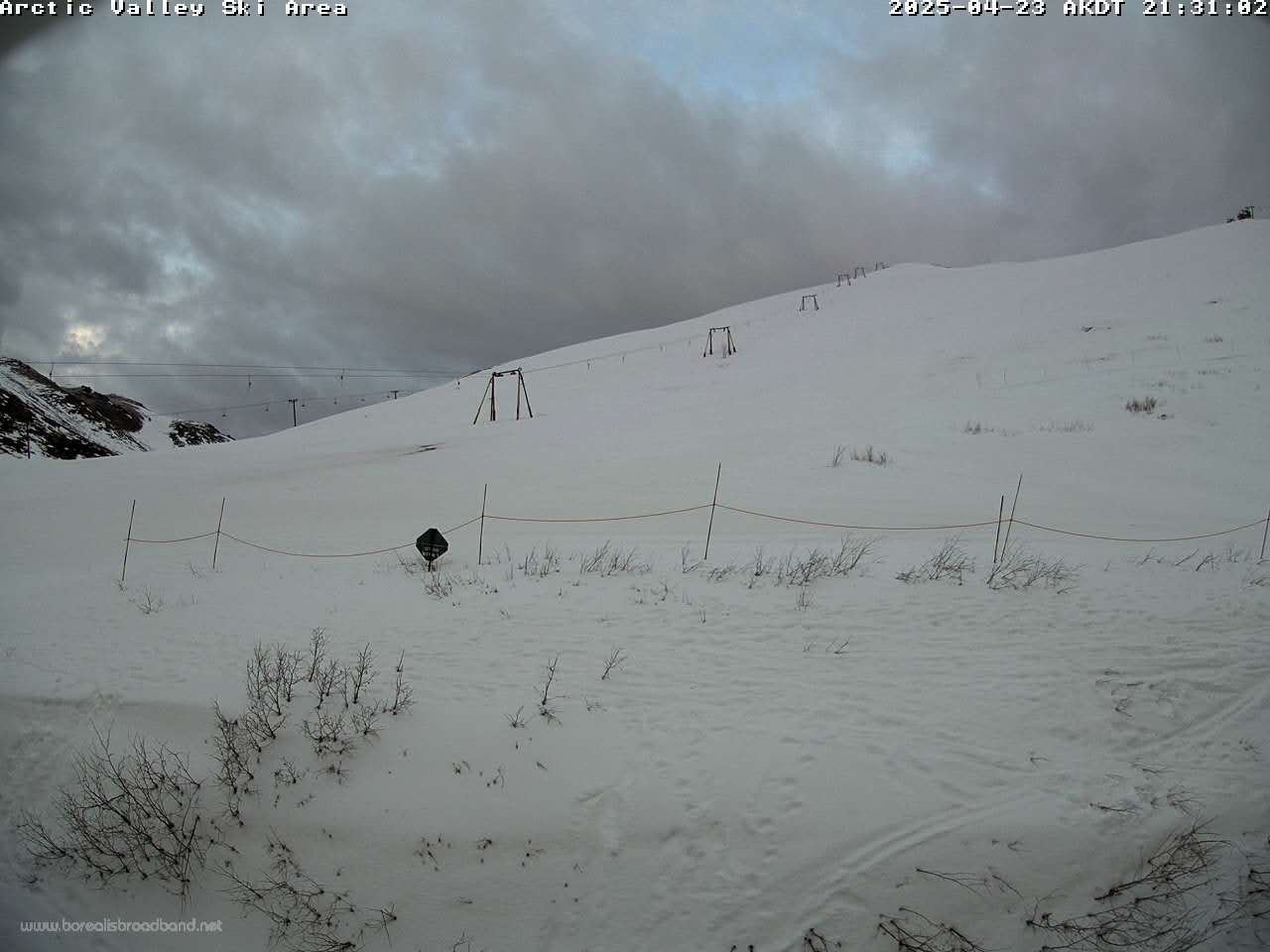 Snow Report
New snow last 24 hours: 0″
New snow since last week: 0″
Total snow depth: 24-28″
We received a couple inches of snow Saturday night through Sunday morning, followed by some winds early in the week. The snow should still help soften up the wind board from last Friday's wind event. We groomed Ptarmigan Ridge and straight off the top along the T-bar line Thursday night, and will groom out Ptarmigan Bowl Friday night. That should all be great cruising skiing this weekend. We'll look to Brandy Bowl and the high traverse to have softened up a little from last weekend as well.
The inversion continues! As of Friday afternoon, it's 15* at the lodge, even though the temperature is hovering around 0 down in Anchorage. This should continue through Saturday, before warmer air moves in on Sunday – preluding a chance of new snow next week! Winds have been light the last few days, and are forecasted to stay that way through the weekend.
Sunday is our January members ski free day! All regular and life members get free skiing/snowboarding tickets. If you haven't signed up yet, it's not too late! For just $75 (individual) or $175 (family of up to 4) you get one day of free skiing in January, February, March, and April – plus discounted lift tickets every day and discounts at the Black Diamond store in downtown Anchorage. You can buy online or at the ticket counter.
JJ Shockley and Jason Ott will be playing in the Afterglow on Saturday from 2-5pm. Jonie Marie will play on Sunday from 2:30-5:30pm.  
This weekend we begin extending our hours to reflect the longer daylight! The T-bar and rope tow will be open until 4pm, and Chair 2 until 3:30. The T-bar will spin from 10:30 Saturday and Sunday. Chair 2 will open as soon as snow safety completes their routes on that lift. We will also have the Rope Tow behind the lodge open for beginners! Rope tow-only tickets are available for $10, and kids under 7 always ski for free.
Chair 1 status: We had a brake malfunction during our load test at the end of August. We made the decision to upgrade the brake to a more modern, industry-standard design shortly after the test. Unfortunately we've had difficulty securing the engineering time needed for the upgrade due to the timing of the failure – right when all the other ski areas are also trying to get their projects done for the season.
Drive shaft modifications are complete, and we're working on reinstalling it and engineering approval. As soon as the engineer and State have approved the modification, we will finish installation. Once that's done, we have to do an acceptance test for the new brake. We hope to have the lift up and running on Saturday, January 25th.
Grooming Status
Ptarmigan Bowl: Groomed Friday night
Ptarmigan Ridge: Groomed Thursday night
South of Chair 1: N/A
Back Bowl Trail: N/A
Last update: Friday, January 17th
Road Conditions
Arctic Valley Road is in good winter driving condition. We do recommend studs and/or 4WD/AWD.
Below is the current schedule for military live fire exercises on Arctic Valley Road:
January 29-31 (Wed-Fri) 8am-4pm daily
For most exercises, road guards will allow traffic to flow every 20-30 minutes in each direction. For some exercises, the waits may be 30-40 minutes. The road (unless noted above) should not be 'closed'. If road guards are communicating longer wait times than those listed above, or telling you the road is closed, please call JBER Range Control at 907-384-6230 and report the issue. They will work to make sure the units conducting training are following the road access rules.
Last update: Friday, January 17th