Webcam
A view from the lodge roof looking approximately East towards Ptarmigan Bowl. Click to see a larger image. Provided by our friends at Borealis Broadband.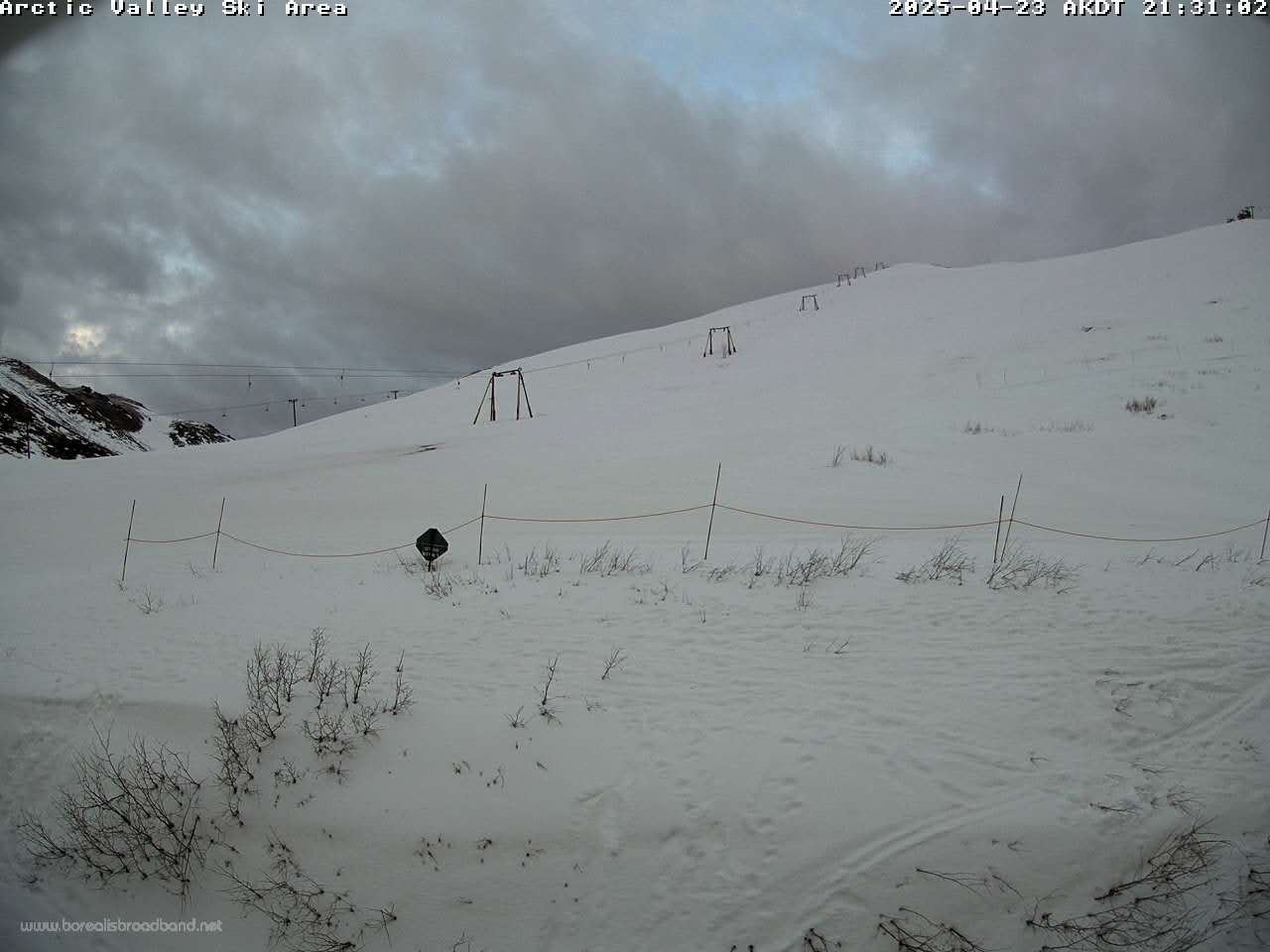 Snow Report
Updated Saturday 11/27/21
New snow last 24 hours: 1″
New snow since last week: 3"
Total snow depth: 30″+
Welcome to ski season!
We're super excited to be open to the public in November! This is the first time in a long time that we've had enough snow to open this early.
We are sold out of full day lift tickets for Saturday. We will sell half day tickets (1pm-3:30pm) at the ticket window.
Arctic Valley received about 3″ of new, super light snow Thursday and Friday; this will be a nice little refresh for some of the areas that got hit by a surprise wind last Saturday night.
Chair 1 may be late to open on Saturday as we have a last-minute adjustment to make. We'll do our best to open Chair 2 ASAP in case the Chair 1 project takes longer than anticipated.
A few things to be aware of this weekend:
We're having some teething issues with our new (to us) winch cat. While we were able to groom a bit of Ptarmigan Bowl last week, it's less than usual and far from perfect. We're working on troubleshooting, but unfortunately only the base areas will be freshly groomed this weekend.
The kitchen has a limited menu this weekend. We'll have pizza, soup, chili, hot dogs, chili cheese dogs, and pretzels with beer cheese. We'll add hot sandwiches back to the menu in a couple weeks.
Ticket windows are now on the SOUTH side of the lodge. No more yelling over the T-bar!
Arctic Valley is closed to uphill travel within ski area boundaries. The trail up the saddle to Tequila Bowl and Mt Gordon-Lyon is always open.
Hours for skiing are 10:30-3:30. See our schedule for details on regular operating hours.
Road Conditions
Arctic Valley Road is in winter driving condition. 4WD/AWD or studs is recommended. The road was plowed Friday 11/26.
Please obey the speed limits on Arctic Valley Road. The JBER MPs have been very active and have given out lots of tickets.
Below is the current schedule for military live fire exercises on Arctic Valley Road:
November 29-30: 8am-4pm (Mon-Tue)
December 2-3: 8am-6pm (Thu-Fri)
December 8-9: 8am-9pm (Wed-Thu)
For most exercises, road guards will allow traffic to flow every 20-30 minutes in each direction. For some exercises, the waits may be 30-40 minutes. The road (unless noted above) should not be 'closed'. If road guards are communicating longer wait times than those listed above, or telling you the road is closed, please call JBER Range Control at 907-384-6230 and report the issue. They will work to make sure the units conducting training are following the road access rules.
Last update: Friday, November 5th
View our weather station's data and charts here