Webcam
A view from the lodge roof looking approximately East towards Ptarmigan Bowl. Click to see a larger image. Provided by our friends at Borealis Broadband.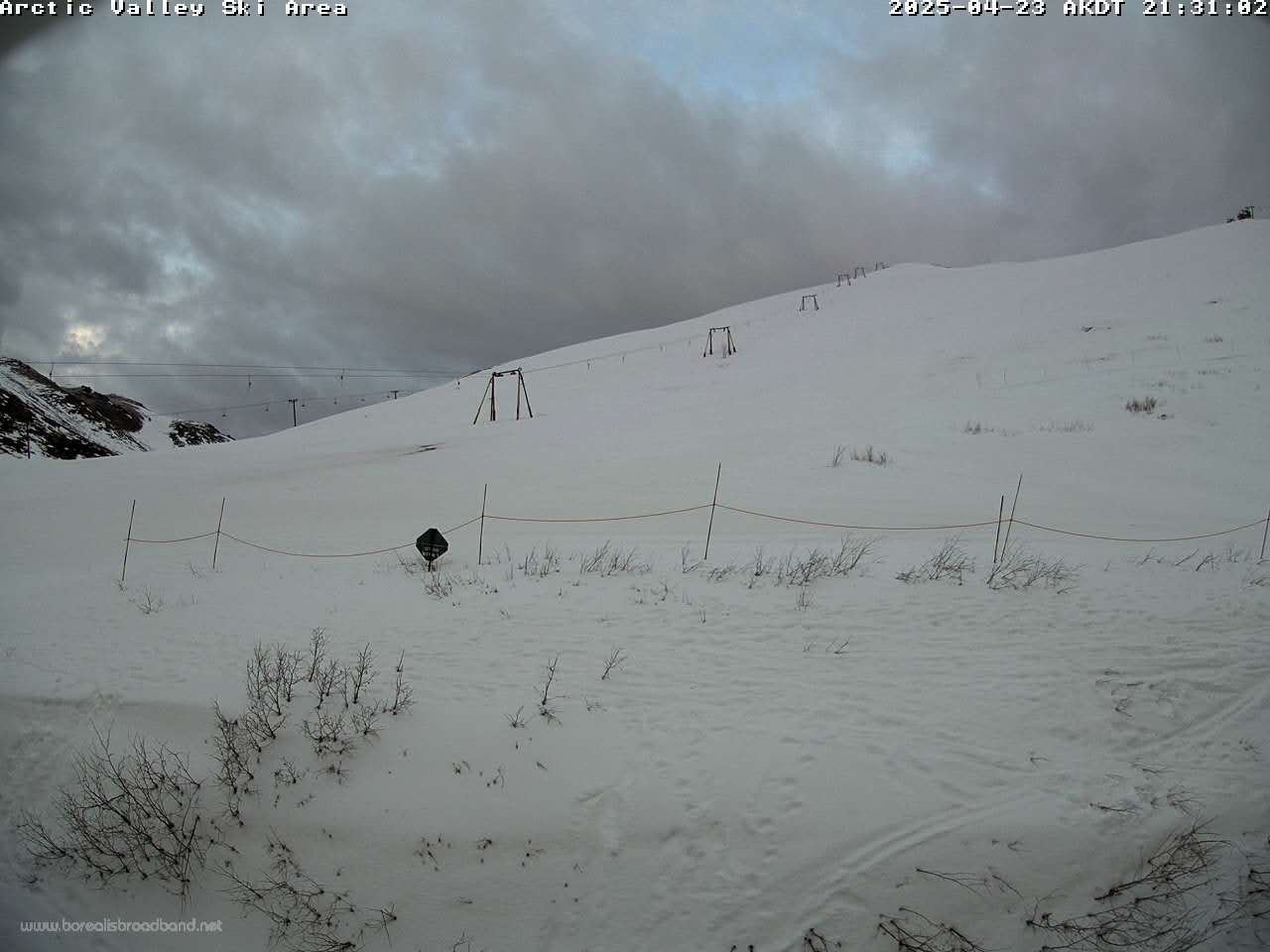 Snow Report
Updated Monday 5/8/2023
New snow last 24 hours: 0″
New snow since last week: 0″
Total snow depth: 20+"
Arctic Valley is closed for the season. The ski area is open for uphill traffic.
Please note:
No ski patrol is available
Marked and unmarked natural and man-made obstacles exist – ride at your own risk
No avalanche mitigation is being performed. Treat Arctic Valley as you would any backcountry terrain
Ski lifts may start at ANY TIME. Do not enter loading/unloading areas, or climb towers or bullwheels.
PLEASE pay the $5 parking fee at the trailhead kiosk, or use our credit card parking machine on the deck at the Rendezvous Cafe. Or buy a membership!
---
For questions, please contact us at info@arcticvalley.org (Wed-Sun) or 907-301-1031 (Thu-Sun).
Need to purchase a season pass or membership? Get yours now!
View our weather station's data and charts here
Grooming report
Base & beginner areas: N/A
Ptarmigan Bowl: N/A
Return from the saddle/backcountry up track: N/A
Road Conditions
Updated: Saturday 4/15/23
Arctic Valley Road is melted down to dirt. Please try to avoid the muddy spots to keep them from getting worse.
Below is the current schedule for military live fire exercises on Arctic Valley Road:
For most exercises, road guards will allow traffic to flow every 20-30 minutes in each direction. For some exercises, the waits may be 30-40 minutes. The road (unless noted above) should not be 'closed'. If road guards are communicating longer wait times than those listed above, or telling you the road is closed, please call JBER Range Control at 907-384-6230 and report the issue. They will work to make sure the units conducting training are following the road access rules.